HB Associates provide Professional Training on Accounts & Financial Activities.
We offer comprehensive and professional training on accounts for individuals and businesses. Whether you are a beginner or an experienced accountant, our courses are designed to meet your specific needs and help you build a successful career in the field. Our trainers are all highly qualified and have years of experience in the industry, so you can be confident that you will receive the best possible training. Our courses cover everything from basic accounting principles to the latest techniques and software. We offer flexible training options, including online courses, in-person training, and customized training programs tailored to your specific needs. Start your journey towards becoming a skilled accountant today and take advantage of our expert training services.
Our Trainee may have learned the basics of buying and selling in school but we share our knowledge with them what is the process of buying and selling? They may have learned about AIT and VAT but we teach them on what product / service VAT and AIT are applicable? Which one does not cut? How many percent to cut? Where to submit? Which account to deposit? What to do after submission? How to submit VAT return etc. They will also learn about receive payments, income statement, financial statement with real data of company.
After they successfully complete our training, they will be sent for real experience under associate of our consultancy firm. If they successfully complete the training and internship period He/She will join with our association as Life Time Member.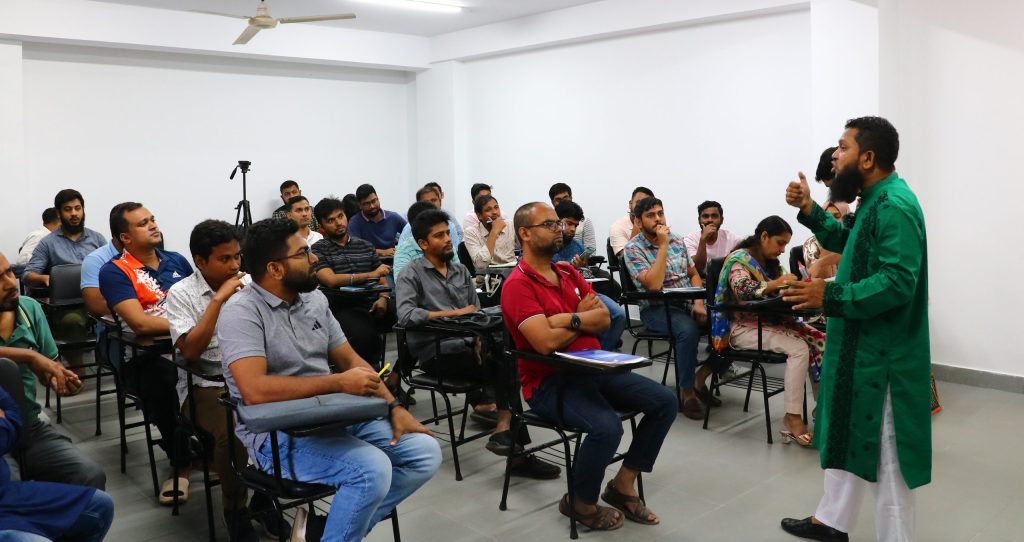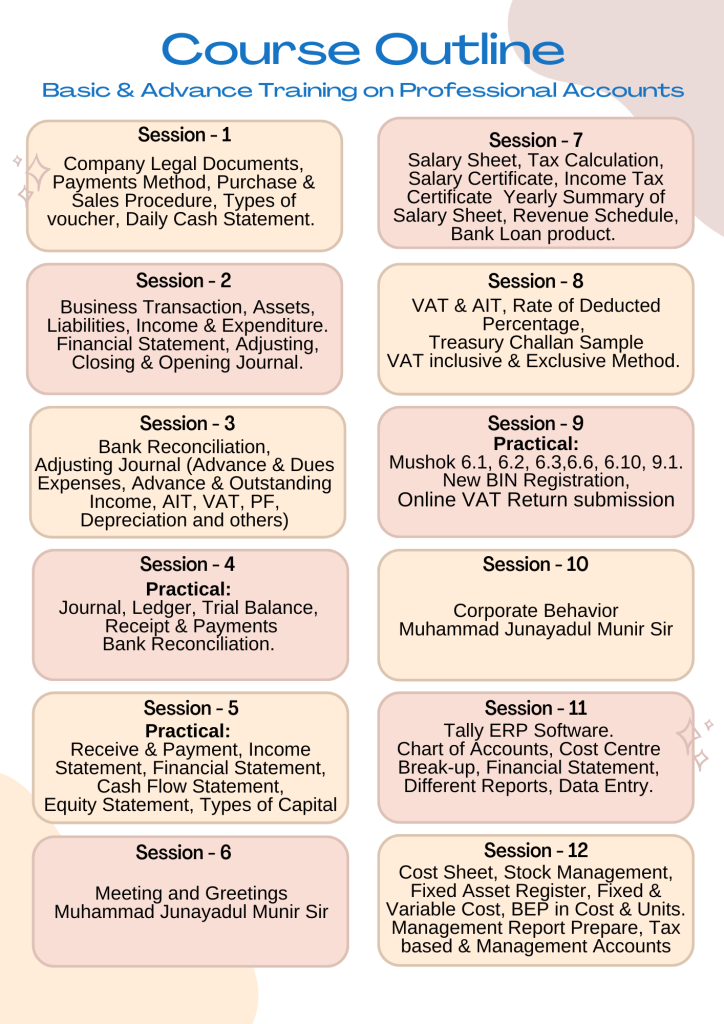 With our comprehensive training program, our goal is to ensure that you not only learn the basics of accounting, but also the more advanced financial activities that are vital to success in today's business world. We believe that a thorough understanding of financial management is essential for anyone pursuing a career in business, finance or accounting, which is why we provide in-depth instruction on various financial concepts, including budgeting, forecasting, financial analysis, and reporting. You'll also learn about industry trends, ethics, and regulations impacting accounting and finance professionals, enabling you to stay current with best practices and regulations. Our experienced instructors are committed to helping you develop a strong foundation in accounting and finance, equipping you with the knowledge and skills necessary to excel in any role you pursue in the field.
If you are a student or recent graduate, you may be interested in finding internship opportunities in your field of study. Internships provide invaluable experience to help you gain practical skills, build your professional network, and make yourself a more attractive candidate for future employment. You can find internships by checking with your college or university, using online job boards, networking with professionals in your field, or reaching out directly to companies you are interested in. Make sure to tailor your application materials to each internship opportunity and be proactive in seeking out new opportunities. During your internship, make the most of your time by asking questions, seeking feedback, and building relationships with your colleagues and mentors. By putting in the effort, you can gain valuable experience and open up new career opportunities.
HB Associates provide 3 Free classes to justify. If anyone thinks that 3 days are not enough to justify then he/she can take another 2 to 3 classes more but we want to ensure our quality of service and commitment. Not only that, if any of our trainee ever thinks that the fees he/she paid to HB Associates is not justified, we will willingly refund the money without any further question.
Developing your career requires determination, focus, and hard work. You need to identify your goals, what you want to achieve, and the skills required to achieve them. Research your desired industry and identify the competencies required for career growth. Assess your skills and identify gaps. Consider enrolling in training courses or obtaining qualifications to bolster your skills. Networking is also an essential part of career development. Ensure you maintain professional relationships with colleagues, join industry-related groups, and attend networking events.
What are Trainee can do after the course;
Capable of managing the all financial activities.
Proper Cash & Bank Management.
Proper Invoicing and vendor payment system.
Monthly Bank Reconciliation.
Maintain Accounts Receivable & Accounts Payable.
Stock Management.
Salary Calculation & Salary Sheet prepare.
All VAT & AIT related works.
Monthly Receive & Payment
Profit & Loss Accounts with Cash Flow Statement.
Monthly Budget.
Internal Risk Management.